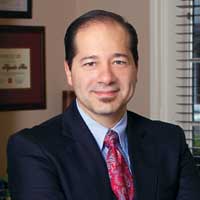 Dr. Gus Alva is a Distinguished Fellow of the American Psychiatric Association, he is also Board Certified by the American Board of Psychiatry and Neurology and the American Board of Geriatrics. He completed his residency training at the University of California, Irvine Medical Center in the Department of Psychiatry and Human Behavior, where he served as chief resident during his final year of residency.
He also served as an Associate professor and deputy director in the department of psychiatry at U. C. Irvine Medical Center. Currently serving as assistant professor at U.C. Riverside Medical School, Department of Neuroscience
As author or co-author his work has been published in peer reviewed medical journals, including the International Journal of Geriatric Psychiatry, The Journal of the American Psychiatric Association and The Northamerican Clinics in Geriatrics has published numerous articles, and presents at both national and international meetings and conferences. He was the recipient of the First Annual Senior Care Humanitarian Award as Outstanding Physician in Dementia Care and the Physician's Recognition Award by the American Medical Association
He has been featured in numerous media outlets and has served as expert guest in various television programs, such as CNN News, Inside OC, Salud Es Vida, Despierta America, The Morning Blend, Healthy Body, Healthy Mind.
Dr. Gus Alva is a member of the following organizations:
Past-president of the Orange County Psychiatric Society
American Medical Association
California Medical Association
Orange County Medical Association
California Psychiatric Association
American Board of Forensic Medicine
American College of Forensic Examiners
California Hispanic American Medical Association
International Congress of Geriatric Psychopharmacology